Prof. Dr. Jürgen POPP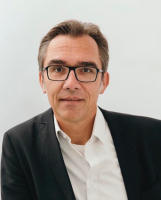 Friedrich-Schiller University, Germany, EU
Position: Scientific Director of the Leibniz Institute of Photonic Technology Jena, Germany and Director Institute of Physical Chemistry, Friedrich-Schiller University, Jena, Germany, EU
Specialization: Biophotonics – development and application of innovative Raman techniques for biomedical diagnosis and therapy.

At the NANOCON´17 conference Prof. Dr. Jürgen Popp will present the invited lecture at the Session C – Bionanotechnology, Nanomaterials in Medicine.

Biography, Education and Employment:
Professor Popp (*1966) studied chemistry at the Universities of Erlangen and Wuerzburg. After his PhD in Chemistry, he joined Yale University for postdoctoral work. He subsequently returned to Wuerzburg University where he finished his habilitation in 2002. Since 2002 he holds a chair for Physical Chemistry at the Friedrich-Schiller University, Jena. Furthermore, since 2006, he is the Scientific Director of the Leibniz Institute of Photonic Technology, Jena. His research interests are mainly concerned with biophotonics according to the needs of pathology, oncology, and infection/sepsis. He is fellow of SAS and SPIE.

Research Interests:
Development and application of innovative frequency-, time- and spatially resolved laser micro-spectroscopical methods and techniques; development and application of innovative linear and non-linear Raman-technologies with particular focus on clinical diagnosis and therapy; molecular multidimensional imaging; localization, identification and structural analysis of biomolecules and biological systems for biomedical diagnosis; derivation of structure-property, structure dynamics relationships; Biophotonics

Awards and Honours:
In 2012 he received an honorary doctor's degree at Babes- Bolyai University Cluj-Napoca, Romania and in 2013 was awarded by the Robert Kellner Lecture. In 2016 he received the prestigious Pittsburgh Spectroscopy Award and was elected to the American Institute for Medical and Biological Engineering (AIMBE) College of Fellows.

Publications:
He has published more than 680 publications in peer refereed journals, more than 12500 citations. Hirsch index: 52. More information: http://www.leibniz-ipht.de/institut/mitarbeiterverzeichnis.html?tx_wtdirectory_pi1%5Bshow%5D=369&cHash=1409cd8145e1a5422d61c354543b826f
Five most important publications in international refereed journals (last 10 years):
Berry D, Mader E, Lee TK, Woebken D, Palatinszky M, Schmid MC, Hanson BT, Wang Y, Zhu D, Schintlmeister A, Wagner M, Shterzer N, Mizrahi I, Rauch I, Decker T, Bocklitz T, Popp J, Gibson CM, Fowler PW, Huang WE (2015) Tracking heavy water (D2O) incorporation for identifying and sorting active microbial cells. Proc. Natl. Acad. Sci. U S A, 112, E194-203.
Press AT, Traeger A, Pietsch C, Mosig A, Wagner M, Clemens MG, Jbeily N, Koch N, Gottschaldt M, Beziere N, Ermolayev V, Ntziachristos V, Popp J, Kessels MM, Qualmann B, Schubert US, Bauer M (2014) Cell type-specific delivery of short interfering RNAs by dye-functionalised theranostic nanoparticles. Nature Commun. 5, 1-13.
Vargas Jentzsch P, Ciobota V, Rösch P, Popp J* (2013) Reactions of alkaline minerals in the atmosphere. Angew. Chem. Int. Ed., 52, 1410-1413.
Stöckel S, Meisel S, Elschner M, Rösch P, Popp J* (2012) Raman-spectroscopic detection of Anthrax endospores in hoax material. Angew. Chem. Int. Ed., 51, 5339-5342.
Tschierlei S, Karnahl M, Presselt M, Dietzek B, Guthmuller J, González L, Schmitt M, Rau S, Popp J* (2010) Photochemical fate: the first step determines efficiency of H2 formation with a supramolecular photocatalyst, Angew. Chem. Int. Ed., 49, 3981-3984.